STAR WARS: THRAWN ALLIANCES 1
STAR WARS: THRAWN ALLIANCES 1

Writer: Jody Houser
Artist: Andrea Di Vito
Cover Artist: Rod Reis

RETURN TO THE SAGA OF THRAWN WITH THE COMIC-BOOK ADAPTATION OF THRAWN: ALLIANCES! TIMOTHY ZAHN teams with STAR WARS veteran JODY HOUSER to bring THRAWN: ALLIANCES to the pages of comic books! Watch as ANDREA DI VITO & PAT OLLIFFE bring the action to life showcasing the tactical prowess of the galaxy's most dangerous mind!

This item is currently in a pre-order status.
Release date approximately set for 1/24/2024.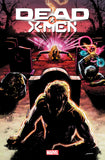 More from this collection