DEEP CUTS #5

Writer: Kyle Higgins, Joe Clark
Artist: Diego Greco
Cover Artist: Chris Brunner

Los Angeles. 1968. The new wave of jazz has left music critic R. Hudson Lowell behind, but a chance encounter with an up-and-comer might just bring back the spark. The DEEP CUTS team is joined by Ignatz Award winner JUNI BA (MONKEY MEAT, Djeliya) for a trip through sound!

This item is currently in a pre-order status.
Release date approximately set for 12/13/2023.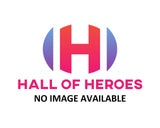 More from this collection